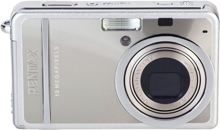 The Pentax Optio S12 (announced 23 January 2008) is a 12 megapixel digital camera with a 3x optical zoom lens (28mm – 114mm equivalent).
The Optio S12 features a 2.5 inch LCD, 21 megabytes of internal memory, face recognition, dynamic range adjustment, digital shake reduction and 18 shooting modes with 15 playback modes including a 'green mode' for beginners.
Pentax Optio S12 Fact Sheet
Ultra-compact, Stylish Design
With a stylish, compact body, the PENTAX Optio S12 is one of the smallest and lightest models with approximately 12.0 effective megapixels.
12.0 Megapixels
With 12.0 megapixels, the camera offers high image quality and higher performance through the 1/1.7-inch CCD that features a wide light receiving area and superior tone reproduction. The high-performance image engine with excellent color reproduction and smc PENATX lens adds to the image quality.
3X Optical Zoom
The Optio S12 features a 3X optical zoom lens with a focal range covering angles of view equivalent to those of a 37.5-112.5mm lens in 35 mm format, which is ideal for a broad spectrum of subjects from landscapes to portraits.
Bright, Easy-to-view LCD Monitor
The high-intensity LCD monitor features an LCD booster function to increase the brightness of the screen. The LCD cover is coated with an Anti-Reflection coating that reduces glare. With a screen size of 2.5 inches and a high resolution of 232,000 dots, it is also easy to confirm the picture composition and the focus. Also, as the screen has a wide viewing angle of approximately 170 degrees in the horizontal and vertical directions, images may be viewed easily even from the side.
Face Recognition Function*
The Optio S12 is equipped with a Face Recognition Auto Focus and Auto Exposure function that automatically recognizes up to 15 faces, adjusts focus and sets the optimum settings. A new Face Selector function also enables users to select one person's face from among multiple recognized faces.
*The face recognition technology Face Tracker developed by FotoNation is used for the Optio S12's Face Recognition AF & AE.
New Dynamic Range Adjustment Function
The Optio S12 is newly equipped with the Dynamic Range Adjustment function that suppresses the generation of white- outs and black-outs by correcting the tones for the highlighted areas and shadowed areas of subjects with significant differences in contrast. Through a link with the Face Recognition function, this feature helps highlight subject even in backlit settings while background tones are automatically retained. In addition, it is possible to change settings in accordance with the photography conditions.
Digital Shake Reduction
Digital Shake Reduction mode reduces camera shake and blurring of the subject when photographing still images. The sensitivity is adjusted automatically, to as high as ISO 3200, to match the brightness of the subjects. This enables photography with fast shutter speeds, and images with less blur.
Movie Recording Function Enabling High-quality Recording
The Optio S12 smoothly captures movies at 30fps (frames per second) at sizes up to 640×480 pixels with image quality rivaling camcorders. Since it employs the DivX®(MPEG-4) movies format,* the Optio S12 can record long, high-quality movies. * The Optio S12 is DivX® certified. Movie playback is not supported on Macintosh operating systems
Pentax Optio S12 Additional Features
Auto Picture mode automatically determines the best setting for the shooting conditions
Mode palette provide quick access to 18 shooting modes and 15 playback modes
An "Intelligent zoom" function which enables images to be magnified even larger and stored, while maintaining the image quality of optical zoom
A Green button enables users to assign functions that are frequently used, and recall then in just one touch
Date imprint function for easier image categorizing
Approximately 21.0MB of built-in memory
FotoNation's red-eye compensation function for flash shots
Includes the ACDSee for PENTAX 3.0 viewer/image management software that supports Windows VistaTM
Support PictBridge, DPOF functions, Exif Print, and PRINT Image Matching III