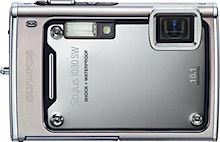 The Olympus Stylus 1030 SW is a 10.1 megapixel point and shoot camera with a 3.6x wide angle optical zoom lens (38 – 114 mm equivalent in 35mm photography) and 2.7 inch HyperCrystal II LCD.
The Stylus 850 SW has been designed with the outdoor adventurer in mind as it's shockproof, waterproof, freeze proof, crushproof and dustproof! This rugged little camera features a special LED light for macro photography, 14.7 megabytes of internal memory and has face detection, digital image stabilization and a fast charge battery.
It has dimensions of 3.7″W x 2.4″H x 0.84″ D (93.6mm x 60.9mm x 21.3mm) and weighs 4.8oz (136g).
Get a price at Amazon for the Olympus Stylus 1030SW 10.1MP Digital Camera
Olympus Stylus 1030 SW Reviews
Trusted Reviews review the Olympus Stylus 1030 SW, and write: "For those possessed of an adventurous spirit, such as skiers, gap year backpackers or snorkelling enthusiasts, the Olympus mju 1030 SW could be the answer to their dreams. The build of this camera is fantastic and a remarkable feat of engineering in what is usually a delicate electronic instrument…. Images from the Olympus mju 1030 SW, don't quite match up to more generic cameras, with some lens problems coming from the folded optical array. There's a tendency to lose definition at the edges of the frame, and some minor fringing, though nothing too serious….Noise is more of a problem, especially at sensitivities higher than ISO 400. Certainly by ISO 1600, although nice to have that high ISO, the images are frankly terrible, so I'd recommend using lower settings whenever possible."