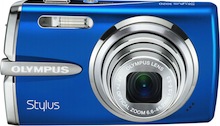 The Olympus Stylus 1020 (announced 22 January, 2008) is a 10.1 megapixel point and shoot digital camera with a 7x opitcal zoom (37mm – 260mm).
The Stylus 1020 features a 2.7inch LCD (HyperCrystal II type), 15 megabytes of internal memory, in camera editing, face detection technology, digital image stabilization.
The Olympus Stylus 1020 comes in a variety of colors and will have a retail price of $349.99 USD.
Buy this camera at Amazon:
Olympus Stylus 1020 Reviews
Olympus Stylus 1020 News Release
Three New Stylish Models Launch with Dual Image Stabilization, Large 2.7-Inch LCDs, and Perfect Shot Preview
Olympus today takes the Stylus series to new heights with the 10-megapixel Stylus 1010 and Stylus 1020, boasting an ultra-compact 7x optical zoom lens that brings the red carpet celebrity or homeplate slugger seven times closer! A 7x lens (37mm-260mm equivalent in 35mm photography) that fits in camera bodies less than one inch thick is a marvel of modern design.
Moreover, all three of the new Stylus cameras being announced today (Stylus 840, Stylus 1010 and Stylus 1020) feature Dual Image Stabilization to prevent blurry images caused by a shaky hand or moving subjects, brilliant 2.7-inch HyperCrystalTM LCDs to view everything in amazing clarity, and Perfect Shot Preview to see the effects of the specific settings before pressing the shutter. The Stylus cameras do it all in fashion with a rainbow of colors to choose from that suit your personal tastes.
"The Stylus series of premium point-and-shoots now has Dual Image Stabilization, large 2.7-inch LCD screens and Perfect Shot Preview in every model for an incredible photography experience," said Tomoko Matsunaga, product manager, Olympus Imaging America Inc. "We've also broken the zoom barrier in ultra-slim bodies with the powerful 7x optical zoom of the Stylus 1010 and 1020. The Stylus cameras are more than just attractive fashion accessories to see and be seen with, they are the seamless blending of innovative features and stunning form."
Large Zoom in a Small Package
Dual Image Stabilization combines two technologies – mechanical Sensor-Shift Image Stabilization and Digital Image Stabilization – to provide one powerful anti-blur solution for capturing great images whether the photographer or the subject is moving. Olympus' mechanical Sensor-Shift Image Stabilization keeps images sharp by adjusting the CCD image sensor to compensate for camera movement, which often occurs in low-light conditions when shutter speeds are slower. Digital Image Stabilization freezes the action with high ISO sensitivity and fast shutter speeds that prevent blurry images often caused by a moving subject. By combining the two technologies, users of the Stylus 840, Stylus 1010 and Stylus 1020 are able to take crystal clear images in any shooting situation.
Large 2.7-Inch HyperCrystalTM LCD
The 10.1-megapixel Stylus 1010 and Stylus 1020 as well as the 8.0-megapixel Stylus 840 enable consumers to achieve consistently sharp and vivid images when producing large-format prints or cropping/enlarging a portion of an image.
A Rainbow of Colors in All Designs
Face Detection tracks faces within the frame and automatically focuses (Face Detection AF) and optimizes exposure (Face Detection AE) for sharp, brilliant portrait pictures. Even if your subject is moving, the camera continuously tracks your subject's face without having to press the shutter button.
Shadow Adjustment Technology
The new Stylus cameras feature Perfect Shot Preview that enables users to preview and select various photographic effects on a live, multi-window screen before snapping the shot. This feature enables users to see precisely what the image will look like when adjustments are made, ensuring users are capturing the exact image they want. It is an ideal way for novice users to learn about the effects of different photography techniques, such as zoom, exposure compensation, white balance and metering.
Perfect Fix In-Camera Editing
In-Camera Panorama mode captures three images and stitches them together to create one amazing panoramic picture. Simply press the shutter button and slowly pan across a panoramic scene. The second and third images will be captured automatically and stitched together with the first image – resulting in one seamless panorama-size picture. To create the ultimate panoramic picture, consumers can use the Olympus MasterTM Software 2 to stitch up to 10 images together.
TruePic™ III Image Processor
All Olympus digital point-and-shoot cameras accept xD-Picture Card media. The Stylus 840, Stylus 1010 and Stylus 1020 will also come equipped with an adapter, which will enable microSD memory cards to be used when capturing images. The microSD cards are emerging in consumer electronic devices, including mobile phones and PDAs. Users can also easily display photos on their HDTVs.
OLYMPUS Master 2 Software
Capturing brilliant images underwater is a snap with Stylus cameras when paired with their respective underwater housing. The new PT-042 housing fits the Stylus 1010 and Stylus 1020, enabling users to take images down to the recreational scuba depth of 130 feet (40 meters). Underwater scene modes offered in the two cameras help users to capture brilliant images of their underwater adventures.
Olympus Premium Cases
The Stylus 1010 and Stylus 1020 include the new LI-50B Li-Ion battery, which charges 2.5 times faster (two hours instead of five) than its predecessor. The new 925-mAh battery boasts a 25 percent increase in power.
Availability
Stylus 840 Estimated Street Price: $249.99. (U.S.)
Stylus 1020 Estimated Street Price: $349.99. (U.S.)