Olympus have announced an underwater casing for its new E-520 Digital SLR camera. The PT-E05 is waterproof up to 40m, and constructed of semi-transparent poly carbonate. The required, optional lens ports allow the use of lenses from the 8mm fisheye through the 50mm macro for spectacular underwater photography.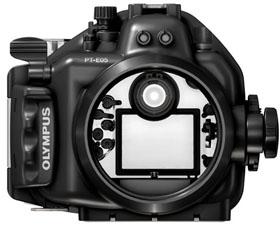 Press Summary
The PT-E05 underwater case has been specially customized for Olympus E-520 and is waterproof up to a water pressure equivalent to a depth of 40 metres.
With its durable, high quality polycarbonate construction, it protects the camera from water while also cushioning it from knocks and bumps on land.
As a genuine advantage to the underwater photographer, he can make use of the Live View function and use the large 2.7"/6.9cm LCD instead of the viewfinder.
The flash connectors allow optional use of up to two UFL-2 underwater flash units.
Five interchangeable lens ports allow the optional use of 14-42mm, 14-45mm, 11-22mm or 14-54mm, 7-14mm, 8mm Fisheye and the 35mm as well as the 50mm Macro lens.
External flash necessary.
The PT-E05 will become available in summer 2008.