The Tamron SP AF70-200mm F/2.8 Di LD (IF) MACRO (Model A001N II) is a lightweight and fast F/2.8 tele-zoom lens designed for full-size SLR cameras with a built-in AF motor for use with Nikon cameras.
Tamron's SP AF70-200mm F/2.8 Di LD (IF) MACRO (Model A001N II) was developed under the same concept as the SP AF28-75mm F/2.8 XR Di (Model A09) a lens highly evaluated by many users around the world as a compact and fast zoom lens boasting a high cost/performance ratio. The 70-200mm is a fast F/2.8 zoom lens that is compatible with full-size SLR cameras and covering an extended telephoto range.
While preventing the lens from becoming bulky, Tamron successfully realized the minimum focus distance of 0.95m over the entire zoom range for a maximum magnification ratio of 1:3.1 at 200mm. Combined with the advantage of an internal focusing system, this lens enables the user to enjoy stress-free close-up photography.
The SP AF70-200mm F/2.8 zoom lens covers a focal length range from 70mm medium telephoto to 200mm real telephoto when mounted on a full-size SLR camera while covering a 35mm-equivalent focal length range from 109mm to 310mm ultra telephoto* (diagonal angle of view of 7°59') when used with a digital SLR camera equipped with an APS-C sized image sensor.
*35mm format equivalent (Tamron's conversion value is 1.55x)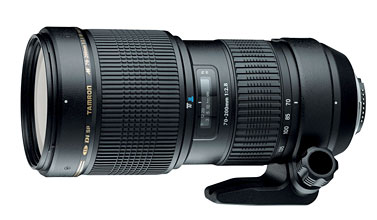 Main Features
1. Minimum focus distance of 0.95m (in.) over the entire zoom range for 1:3.1 maximum magnification ratio
Tamron has realized the minimum focus distance of 0.95m (in.) over the entire zoom range for the first time in the class of F/2.8 fast tele-zoom lens compatible with 35mm full-size SLR cameras. The maximum magnification ratio at its 200mm tele end is 1:3.1. As a result of the thorough pursuit of ideal power distribution within the whole optical system, the lens accepts popular 77mm filters.
2. Innovative optical design striking balance between soft out-of-focus effects and sharpness
In order to strike a balance between the capability to derive soft out-of-focus effects and sharpness for acknowledging Tamron's tradition, the lens makes lavish use of as many as three LD (low dispersion) glass elements for minimizing on-axis and lateral chromatic aberrations which become major image degradation factors. Thanks to this innovative optical design, the lens realizes high definition and high contrast performance as well as optimum flatness of field, providing outstanding optical performance in all photographic situations and over the entire zoom range.
3. Lightweight tele-zoom boasting F/2.8 constant maximum aperture
Tamron has realized the light weight of 1,150g ( oz.) for the F/2.8 fast tele zoom lens by using in its barrel parts made from engineering plastic materials having superior dimensional stability and strength even sufficing conditions for industrial applications.
4. Thoroughgoing countermeasures against ghosting and flare, including internal surface coatings
Tamron employed multi-layer coatings in order to reduce reflections on lens surfaces as well as internal surface coatings (coatings on cemented surfaces of lens elements) in order to minimize reflections from the imager itself within the mirror box, a problem inherent to digital SLR cameras.
5. "Focus ring switchover mechanismA allowing AF/MF switchover in a single action (for Nikon and Canon AF cameras only)
The lens in mount for Nikon or Canon AF cameras is designed to allow the user to change the focus mode mechanically and electrically by simply sliding the focus control ring to and fro, for switching from the AF mode to the MF mode or vice versa in one single action. (In case of the lens in mount for Sony and Pentax cameras, AF/MF switchover operations on both the lens and camera sides are required, same as before.)
Since the lens employs an internal focusing system, the focus control ring of the lens (in all mounts for Canon, Nikon, Pentax and Sony AF SLR cameras) does not rotate at time of focusing or zooming, providing good holding and balance in all photographic conditions in the AF mode, while focusing can be smooth and accurate in the MF mode just like a manual focus lens.
6. A lightweight, detachable and durable tripod grip ring made of aluminum is supplied as a standard accessory.
7. Flower-shaped lens hood as a standard accessory
The lens is supplied with a flower-shaped lens hood as a standard accessory designed to efficiently cut harmful light entering from angles other than intended angles at four corners of the frame in order to ensure clear descriptive performance.