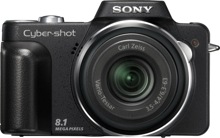 The Sony CyberShot DSC-H3 is a 8.0 megapixel point-and-shoot digital camera (announced 21 August'07).
It features: a 10x optical zoom Carl Zeiss Vario-Tessar lens (38-380mm) with optical image stabilization, face detection (auto exposure, focussing, white balance and flash), HD Output, ISO 100-3200, and a 2.5″ 115K Pixels TFT LCD Screen.
The DSC-H3 also features 31 megabytes of internal memory and an advanced sports mode with predictive auto focussing and high shutter speeds. It comes in silver and black.
Sony Cybershot DSC-H3 Reviews
RegHardware reviews the Sony CyberShot DSC-H3 and writes;
"so if you want to upgrade to a better specified camera without sacrificing too much in terms of portability, or don't fancy lugging around a digital SLR and lens kit, but want more than a bog-standard compact, then seriously consider the DSC-H3."
DigitalCameraReview reviews the Sony CyberShot DSC-H3 and writes;
"The Sony Cyber-shot H3 delivers in many of the areas that will be important to buyers shopping for this kind of camera. It offers a generally good, stabilized 10x zoom lens, snappy shot-to-shot performance, a good flash unit, and nice color reproduction. "
PopPhoto reviews the Sony CyberShot DSC-H3 and writes;
"Its low ISO image quality is extremely high, although we'd recommend staying at ISO 400 and below when fine detail is a must. At high ISO, aggressive noise filtering makes for smooth images without obnoxious amounts of noise, although this does come at the serious expense of resolution. "
DigitalTrends reviews the Sony CyberShot DSC-H3 and writes;
" I was very surprised the 3200 image wasn't a pixilated mess; granted the noise was very noticeable in an 8.5×11 print but it better than most of the point-and-shoots recently used…As always do your own hands-on test but if it were my money, speed wins out—and the Sony has it to spare. "
Cameras.UK reviews the Sony CyberShot DSC-H3 and writes;
"Picture quality, build quality and shutter delay times are all very impressive. I really enjoyed testing this camera and would be happy to own one. It is smaller than most super zoom models and sells for a reasonable price. Recommended…The Sony DSC H3 ticks all the right boxes for me. The picture quality is there and shutter lag times are very impressive. I also like the design of the camera and build quality seems good too. If I was looking for a smaller, super zoom digital camera this would be the one I would buy. "
ImagingResource reviews the Sony CyberShot DSC-H3 and writes;
"Our most important measure these days is how well the images print, and the Sony H3 gets a very high score, with the ability to capture ISO 100 images that print very well at 13×19 inches. Even ISO 3,200 images shot in daylight balanced light are usable at 4×6; otherwise, we recommend you stick to ISO 1,600. Prefocus shutter lag is just astonishingly fast, making the Sony H3 a good choice for kid photos…Overall, if you like this size of camera, you'll be rewarded with some of the best shots you can get from a small Sony camera."
PhotoReview.au reviews the Sony CyberShot DSC-H3 and writes;
"Pictures taken with the test camera were bright and sharp, with natural-looking colours and a slightly better-than-average dynamic range. The Super SteadyShot stabilisation system worked extremely well with the lens at full tele extension and also in low-light conditions. The AF system worked best when the centre-weighted and spot modes were used but even the multi-zone mode was fast and accurate in bright, contrasty lighting."
GoodGearGuide reviews the Sony CyberShot DSC-H3 and writes;
"In most of our speed tests the H3 also impressed. It exhibited a lightning quick 0.05-second shutter lag and just 1.2 seconds between shots. Power up time was also quick at just over 1.5 seconds….The Sony Cyber-shot DSC-H3 is a great ultra-zoom camera. Its compact build makes it ideal for travellers and it has a boatload of features along with capturing some fairly good shots."
CNET reviews the Sony CyberShot DSC-H3 and writes;
"The good: Has 10x optical zoom lens; small size; optical image stabilization; face detection. The bad: Noisy images at higher ISOs; no place to put your thumb. The bottom line: If you don't like electronic viewfinders, but want a superzoom, this Sony packs a 10x zoom lens and 8 megapixels into a tiny package, but image quality at higher ISOs is a bit lacking."