The Sony Alpha A350 (announced 30 January 2008) is a 14.2 megapixel (CCD) DSLR with a 2.7 inch tilting LCD (making it easy to view the screen from high or low positions). The LCD has a live view mode.
It has an ISO range of 100 to 3200 and a shutter speed range of 30 to 1/4000 second. Due to it having more megapixels than the A300 it is limited to 2 frames per second shooting at full resolution.
The Sony Alpha A350 will be bundled with a DT 18-70mm f3.5-5.6 standard zoom lens and have a retail price of around $900 USD.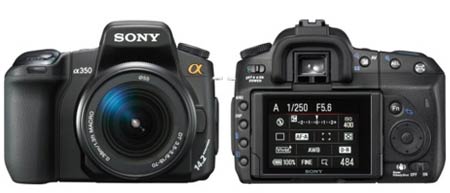 Get a price at Amazon for the Sony Alpha 350 14.2MP Digital SLR Camera
Sony Alpha A350 Reviews
Camera Labs reviews the Sony Alpha A350 and write: "The Sony Alpha A350 is a feature-packed DSLR with a compelling price tag. With high resolution, built-in stabilisation, Live View and a flip-out screen, it ticks the boxes of most new DSLR buyers. Sony's fuss-free Live View is also arguably the best implementation yet for general consumers. It's quick, quiet and offers uncompromised auto-focusing performance. Sure the coverage and accuracy isn't the same as systems which use the main sensor, but this will only bother the more technical photographers out there…. Despite a few issues which will annoy technical photographers, the Alpha A350 is an excellent DSLR with great features and arguably one of the best Live View implementations to date. Given all it offers for the asking price we can easily award it our Highly Recommended rating."
CNET reviews the Sony Alpha A350 and write: "with its 14-megapixel CCD, flip-up LCD, sensor-shift image stabilizer, and built-in wireless flash controller, the feature-packed Sony Alpha DSLR-A350 seems like a cornucopia of photographic goodness for the budget shopper. And you wouldn't be far off the mark: there's a lot to like in the A350… however, unless you're prepared to spend a disproportionate amount of money on a really good lens, the resolution bump offered by the Sony Alpha DSLR-A350 isn't worth the price."
Photo Review review the Sony Alpha A350 and write: "Low-light performance was very good, with accurate colours in long exposures (up to 30 seconds) and no apparent noise in exposures up to ISO 800. Colour noise became evident at ISO 3200 but at a relatively low level, although some shadow detail was lost with this setting…. Sony's A350 DSLR has something to offer to both digicam upgraders who are looking to buy a more sophisticated camera and photo enthusiasts who want a high-resolution camera with all the latest shooting controls. It's a definite step up from the A200 model in both features and performance and represents very good value for money. However, for enthusiasts who want to get the best from this camera, we'd recommend buying the body alone and pairing it with a more sophisticated lens."
Good Gear Guide has reviewed the Sony Alpha A350 and they write: "Image noise was kept under control at most sensitivities. We did see some creeping in at ISO 800, but it was very fine white noise and was only visible at large magnifications. At 1600 and 3200 it became a little more prominent and colourful but we'd still be happy using the shots in most situations….In terms of design this unit is a little larger than normal thanks to the second live view sensor, but aside from that it is well constructed. It sits nicely in the hands with the chunky grip feeling particularly good."
Pop Photo review the Sony Alpha A350 and write: "the A350's resolution, combined with Excellent color accuracy (Average Delta E of 6.9) and Extremely Low noise at low to moderate ISO settings, helped the camera achieve an Excellent image quality rating at ISO 100-800…. While noise performance at high ISOs doesn't come close to the latest DSLRs we've tested, Sony has another low-light weapon: Super SteadyShot image stabilization."
Imaging Resource review the Sony Alpha A350 and write: "ISO 3,200 is good as well, despite the early noise suppression in RAW that many enthusiasts will distrust. The printed results at 3,200 are good enough for a good 5×7, which is what most consumers will want. That's pretty rare from any camera… the Sony A350 is easy to recommend to just about any consumer photographer wanting higher quality in their images. Using the Sony A350 is a convenient and easy way to learn more about photography, and get great shots of the family to boot."
Digital Trends review the Sony Alpha A350 and write" This one is really a no-brainer… the Sony alpha DSLR-A350 is a terrific camera for the price…avoid the kit lens and spend a little extra for the 16-80mm Zeiss edition–and you'll be set for years. This D-SLR has a nice, solid feel, is easy to operate, takes quality images, has built-in stabilization, sensor cleaning and enough tweaks to keep you punching menu options until you get completely bored. Fortunately the photographic results of the –A350 are far from boring."
Sony Alpha A350 DSLR Press Release
Sony Introduces Two Mainstream DSLR Cameras With Unique 'Quick AF Live' View System
Sony is bringing live-view shooting to its digital SLR camera line with today's introduction of a 14.2-megapixel α (alpha) DSLR-A350 camera and 10.2-megapixel α (alpha) DSLR-A300 model. Both cameras feature new technologies that make picture taking faster, easier, and more familiar for first-time DSLR users.
Quick AF Live View System
They both offer Sony's new "Quick AF Live View" technology so you can frame photos on the camera's LCD without sacrificing auto-focusing speed common to other live-view systems.
Sony's innovative Pentamirror Tilt mechanism directs light to a dedicated live view image sensor, enabling fast and responsive TTL phase-detection auto-focusing, even during live view.
Eliminating the focus delay of other systems, the new models are equally responsive whether using live view or optical viewfinder.
With its two sensor design, Quick AF Live View can even continuously focus-track the subject and provide live view during burst shooting, helping you capture that special moment.
Taking further advantage of Quick AF Live View is the models' variable angle 2.7-inch Clear Photo LCD screen. This makes it easy to frame scenes from high or low positions difficult to reach when using an eye-level viewfinder.
With Live View and an adjustable LCD, the cameras do not need to be in front of the user's face, allowing parents, for example, to maintain eye-contact when photographing their children.
"Mainstream users stepping up to DSLRs are looking for a similar experience to their point and shoot cameras, but without compromise in speed or performance" said Phil Lubell, director of marketing for digital cameras at Sony Electronics. "Quick AF Live View gives these new models a familiar shooting style without compromising speed – ideal for the growing market of first-time SLR users."
Exceptional Image Quality
The new models produce images with fine detail, rich tonality and vibrant color due to their APS-C CCD image sensors and BIONZ processing engine. To aid shooting in low light, Super SteadyShot image stabilization enables shutter speeds 2.5 to 3.5 steps slower than otherwise possible, with every compatible Minolta Maxxum and Sony a (alpha) lens (sold separately) attached to the camera.
High sensitivity operation at ISO 1600 and 3200 and very low noise are made possible by the user-selectable high-ISO noise reduction features. Sony's D-Range Optimizer delivers suitable tonality and exposures with rich shadow and highlight detail, even under high contrast situations.
Powerful Performance, Easy to Use
The DSLR-A300 model can shoot about three continuous frames per second and the DSLR-A350 model can shoot up to two-and-a-half continuous frames per second, when using the optical viewfinder. Both are powered by the Bionz processing engine and supplied InfoLITHIUMTM battery for fast start-up times, quick response and long battery life – up to 730 shots per full charge when using the optical viewfinder and up to 410 shots per full charge in live-view mode.
Both models feature lighter, slimmer bodies for easy handling; an improved user interface; an automatic pop-up flash; a comfortable camera grip with an easily accessible mode dial; an anti-dust system to keep the CCD image sensor clean for spot-free pictures; and JPEG and RAW file format support. Both have a slot for CompactFlash Type I/II media cards. An adaptor for Memory Stick Duo media cards is also available for the cameras and sold separately.
The new DSLR-A300 and DSLR-A350 cameras are compatible with a range of accessories, including the ergonomic Sony VG-B30AM vertical grip. Also available as an option is the new Sony HVL-F42AM flash unit. It offers advanced features such as automatic white balance adjustment with color temperature information, adjustable bounce angles, ADI metering and wireless remote operation to suit the needs of most photographers.
Price and Availability
The DSLR-A300 kit with a DT 18-70mm f3.5-5.6 standard zoom lens will ship in April for about $800. The DSLR-A350 camera body will be available in March for about $800, and the DSLR-A350 kit with a DT 18-70mm f3.5-5.6 3.9x zoom lens will be available for about $900 at the same time.