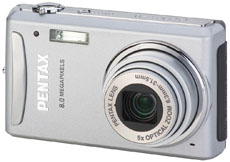 The Pentax Optio V20 (announced 17 March, 2008) is an 8.0 megapixel ultra slim point and shoot camera with a 5x zoom lens (36mm – 180mm equivalent) and a 3.0 inch LCD monitor.
The Optio V20 has innovative features such as Face Recognition, Smile Capture – to which detected facial expressions and releases the shutter, and Blink Detection – reporting when subjects close their eyes in an image.
It also features, 52 megabytes of internal memory, auto tracking AF and Auto Macro mode and digital shake reduction.
The Pentax Optio V20 has dimensions (W x H x D) – 3.8 x 2.2 x 0.9"; Weight – Without battery or removable memory: 4.6 oz.
Pentax Optio V20 Press Release
PENTAX ANNOUNCES OPTIO V20 DIGITAL CAMERA
PENTAX ANNOUNCES OPTIO V20 WITH 5X ZOOM, 3 INCH MONITOR AND
INNOVATIVE PORTRAIT FUNCTIONS

GOLDEN, CO (March 17, 2008)…PENTAX Imaging Company has announced the PENTAX Optio V20 compact digital camera with a 5X zoom lens, 8.0 megapixels, and a generous 3.0 inch LCD monitor. Ultra-slim and stylish in design, this latest PENTAX compact digital camera makes it easy to capture and to view images.

Three innovative features on the Optio V20 help users optimize portrait photographs. A Face Recognition function automatically detects and focuses on faces, then sets the optimum exposure. Smile Capture detects the key facial expression of happy people and releases the shutter automatically. Blink Detection reports to the user whether any subjects closed their eyes in an image, so that the shot may be recaptured if necessary. Additional features include Auto-tracking AF for continuously focusing on a moving subject, 52MB of built-in memory, and an Auto-Macro mode that allows close-up photography as near as 4 inches (10 cm) without changing the normal focusing mode.

The PENTAX Optio V20 will ship in May 2008 for US $279.95.