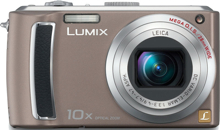 The Panasonic Lumix TZ5, known as the TZ15 in Asia (announced 29 January 2008) is a 10.7 megapixel (CCD) digital camera with 10x optical zoom (28mm – 280mm) with an aperture maximum of F3.3-F4.9.
The Panasonic Lumix TZ5 has a 3.0 inch LCD with 460,000 pixel resolution and 20 megabytes of internal memory. It also features face detection, continuous auto focus, red eye correction (in camera), intelligent exposure, intelligent scene selector and intelligent ISO (lots of intelligent modes – meaning it'll sense a lot of what's going on in your scene and set your camera up for it automatically).
The TZ5 will last for 300 shots per charge of it's Lithium Ion battery and is available in blue, black and silver.
Get a price at Amazon for the Panasonic Lumix DMC-TZ5K 9MP Digital Camera
Panasonic Lumix DMC-TZ5 Reviews
CameraLabs reviews the Panasonic Lumix DMC-TZ5 and writes: "The Panasonic Lumix DMC-TZ5 remains one of the most flexible compact cameras on the market – and one which has few if any rivals. it's the core feature which still impresses…the TZ5 is a highly compelling proposition for anyone who wants the flexibility and power of a long zoom with the carry-everywhere convenience of a compact. Once again Panasonic has a camera that easily deserves our Highly Recommended rating."
Photoxels reviews the Panasonic Lumix DMC-TZ5 and write: "Performance is very good for an ultra zoom: startup and shot to shot times are about 2 sec. With a contrasty subject and good lighting, there is no practical shutter lag and autofocus is quite fast and precise…. If you are looking for one digital camera that has pretty much everything you need for snapshooting, the Panasonic Lumix DMC-TZ5 is a well-designed ultra zoom digital camera that will make many point-and-shoot photographers happy "
PopPhoto reviews the Panasonic Lumix DMC-TZ5 and writes: "Simply put, the Panasonic Lumix DMC-TZ5 handles noise well at all ISOs, without sacrificing much resolution. It's less than a 5% decline in rez between ISO 100 and 800, and less than a 20% drop between ISO 100 and 1600. We' d recommend setting ISOMax at 800 under most conditions (and use EV compensation to gain an extra stop or two), and only jump up to ISO 1600 when absolutely necessary… It is a point and shoot in the truest sense of the word — but a point and shoot that usually delivers images that will satisfy even discerning photographers who want to travel light. Throw in 720p HD video capture with full optical zoom during capture, one of the highest resolution LCDs in a pocketable camera and it gets even better."
DP Review reviews the Panasonic Lumix DMC TZ5 and write: "The 28-280mm 10x zoom makes the TZ5 an ideal travel companion covering an enormous array of photographic assignments, from wide angle landscape shots to wildlife photography…the TZ5 is a versatile, user friendly photographic tool that can produce good results outdoors in decent light but struggles when it comes to taking pictures indoors and in low light (the flash performs quite well though). If you are looking for a travel or walkaround camera that is quick enough for the occasional spontaneous street shot and can also produce great quality HD video you should definitely have a closer look at the TZ5. If low light photography or indoor social snapping is more your thing or if you're into 'pixel-peeping' you might want to look out for alternatives"
Get a price at Amazon for the Panasonic Lumix DMC-TZ5K 9MP Digital Camera