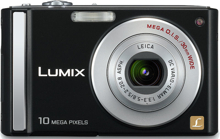 The Panasonic Lumix FS20 (announced 29 January, 2008) is a 10.1 megapixel point and shoot camera with a 4x optical zoom lens (30mm – 120mm equivalent)
The FS20 features a 3.0 inch LCD (230,000 pixels), and a variety of 'intelligent' modes that sense moving subjects and camera movement to choose the right settings for you. It also has 50 megabytes of internal memory, face detection technology and Quick Auto Focus for focussing without having to hit the shutter button at all.

The Panasonic Lumix FS20 is available in red, black and silver.