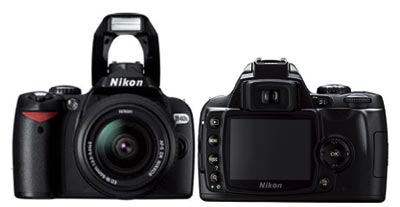 The Nikon D40X is an update of the previously popular D40 and features a 10.2 megapixel DX CCD sensor (the D40 was 6MP), ISO of 100 to 1600 (extendable to 3200), burst mode of 3 frames per second and a 2.5 inch LCD screen (230,000 pixels).
Apart from the larger megapixel count, extended ISO range and increase burst mode it's largely the same as the D40.
The Nikon D40X measures 126.0 x 94.0 x 64.0mm and weighs 481 grams.
Nikon D40X Reviews
PhotographyReview reviews the
Nikon D40X
and writes;
"The D40x is a great choice for photographers buying their first digital SLR, or photographers who like the convenience of a smaller camera. It also makes a great camera for hobbyists who don't really need a big, heavy, expensive DSLR with a million buttons on the body – save some money on the body and buy a better lens"
PCWorld reviews the Nikon D40X and writes;
"The camera's image quality is superb, especially from ISO 100 to ISO 800; color noise increases when you shoot at ISO 1600 or 3200, but that's a normal trait of digital SLRs in this price range."
DigicamReview reviews the Nikon D40X and writes;
"The Nikon D40x is a compact 10 megapixel Digital SLR that produces great image quality, with very low noise levels. Images are bright, detailed, and colourful with lots of saturation, and the camera produces pleasing JPEG images. This makes it a great starter Digital SLR, because you simply point and shoot and you should get great results. "
Steve'sDigicams reviews the Nikon D40X and writes;
"This new Nikon D40x continued to impress us, offering speedy performance, great image quality, and loads of user-friendly exposure options…I feel the Nikon D40x digital SLR package offers an outstanding value for the amount of camera you are receiving for the money. "
PhotographyBlog reviews the Nikon D40X and writes;
"Indeed, the D40x now costs almost as much as the Canon Digital Rebel XTi / 400D and the Sony A100, which are less beginner-friendly but more accomplished and full-featured all-round packages than the D40x. Compared to those cameras, the D40x is a less attractive proposition than the D40, which still has the significant advantage of a lower price tag. So if you only need to make A4 prints, choose the D40. Anything larger and you should seriously consider the D40x's main rivals, which is ultimately why the D40x only scores a Recommended award."
Megapixel reviews the Nikon D40X and writes;
"At 3200 ISO, noise is clearly more pronounced, but images remain fully useable…In view of the few differences between the D40x and the D40, one wonders why Nikon did not release the D40x in the first place. While there is little doubt that purchasers of the D40x will appreciate the increase in resolution, when images captured with the D40 and D40x are compared, it is difficult to detect any qualitative differences."
Shutterbug reviews the Nikon D40X and writes;
"So, I can only assume that the images above ISO 800 are pretty darn noisy without in camera processing. This is probably the case with many D-SLRs that take this decision out of your hands. And that increased noise and subsequent automatic processing might be a consequence of packing more pixels on the chip. But the benefit here is that ISO 1600 and even the High ISO, which the D40x instruction books tells us is "equivalent (to) roughly ISO 3200," yield satisfactory, albeit somewhat soft, images."
DigitalCameraReview reviews the Nikon D40X and writes;
"The telephoto end of the lens (55mm) was quite good – slight softness at the edges, but virtually unnoticeable below 100% enlargement. There is some purple fringing in the lens (at high contrast boundary layers), but it is not readily apparent below 200%. All in all, very good performance… After shooting a D2X with a D200 as my second body for quite some time now, I was curious how the D40x would strike me in comparison. The answer is, it's a great little camera!"
ThinkCamera reviews the Nikon D40X and writes;
"Nikon's D40x takes great pictures, there are plenty of controls and it comes in at a terrific price. However, it's essentially a D40 with more megapixels (one could say almost the same of the Canon 400D, too). More isn't necessarily better; unless you print large or crop heavily, you may as well save yourself the £100 difference and go for the D40."
Macworld reviews the Nikon D40X and writes;
"If you're a novice photographer looking to move up to a DSLR, choosing the D40x over the D40 will mostly come down to whether you want more megapixels (for bigger prints and more resolution for better cropping), a faster burst mode, and a slightly wider ISO range…he D40x is $100 less than the Digital Rebel XTi with a comparable lens, and the Nikon has a wonderful, easy to use feel about it. Just make sure that the features you won't get with the D40x—exposure bracketing, depth of field preview, and automatic sensor dust cleaning—aren't that important to you."
DCViews reviews the Nikon D40X and writes;
"Battery performance has been improved from 470 images per charge to 520 according to CIPA standards. There is still no built-in focusing drive motor however, so only AF-S and AF-I Nikon lenses with their own drive motor can be used with full program options."
PCW reviews the Nikon D40X and writes;
"Pros: Usability; image quality; compact, lightweight body. Cons: No in-body focus motor; no depth-of-field preview. Overall: A noticeable improvement over the D40 in image quality with no reduction in speed. Its excellent usability makes it ideal for beginners who want the best quality"
ImagingResource reviews the Nikon D40X and writes;
"Here at ISO 1,600, the highest that the XTi and D40x have in common, you can see the two different approaches to maintaining a quality image at high ISO settings…The XTi takes a more conservative approach, leaving some noise in place in favor of maintaining detail. The D40x did just like its big brother the D80 did, squashing as much noise as possible in favor of cleaner, more decisive colors…. The Nikon D40x is one of the finest family cameras on the market made even better than its predecessor, which is a tall order."
GoodGearGuide reviews the Nikon D40X and writes;
"As expected, the D40x's noise performance is flawless. It scored 0.38% in this test at ISO 100, which is in line with other entry level SLRs. Furthermore the noise scaled excellently with higher sensitivities. Our shots were perfectly usable all the way up until ISO 800, with a sharp jump in noise when using ISO 1600. Those that regularly like to shoot at ISO 400 or ISO 800 should find this model appealing."
DCRP reviews the Nikon D40X and writes;
"Camera performance is superb. Flip the power switch and the D40x is ready to go. Focusing times were very good, and low light focusing was excellent thanks to a powerful AF-assist lamp. Naturally, shutter lag wasn't a problem, and shot-to-shot delays were minimal. The D40x's continuous shooting mode is better than that of the D40, taking six RAW or an unlimited number of JPEGs at 3 frames/second. Battery life is also improved upon, though the numbers are still average in the lower-end D-SLR class. As you'd expect, the D40x supports the USB 2.0 High Speed standard, for fast photo transfer to your Mac or PC."
LetsGoDigital reviews the Nikon D40X and writes;
"We can be brief; the Nikon D40x is a very fine and smart DSLR camera that offers a lot of quality for a low price. The D40 camera was welcomed enthusiastically and quickly left its competition behind. The different camera reviews almost always showed a positive conclusion, also with our DIWA colleagues, who awarded the D40 with a DIWA Gold Award nearly unanimously. Because the Nikon D40x is identical to the D40, I expect again a big success for this model. Once more, Nikon shows what its good at. The production of a serious SLR camera with an excellent image quality, but not forgetting what it's all about: hassle free and pleasant photographing for everyone. For these reasons, the Nikon D40x is absolutely highly recommended! "
CameraLabs reviews the Nikon D40X and writes;
"The D40x may have a better kit lens, but the Canon 400D / XTi has far superior AF, depth-of-field previews and full support for older lenses. Then there's the Sony A100 which again costs roughly the same and features built-in anti-shake facilities. Both it and the Canon are technically superior cameras…As such it earns a lower rating than the D40, although still comes Recommended. It's certainly the friendliest 10 Megapixel DSLR around and one of the best choices for 'pixel-conscious' beginners. If you are siding with the D40x as your first DSLR though, do ask yourself if you really need 10 Megapixels. If the honest answer's 'No', then go for the D40 and save yourself some money or spend it on a new lens instead."
CNET reviews the Nikon D40X and writes;
"The good: Comfortable, compact body design; very low noise at higher ISOs; highly customizable menus; 10.2-megapixel CCD sensor. The bad: Slow kit lenses; RAW editing software costs extra; controls can be awkward; occasionally slow to focus; no automatic sensor cleaning; RAW-plus-JPEG mode limited to basic instead of fine JPEG compression. The bottom line: The Nikon D40x makes a very nice first dSLR, though experienced SLR shooters looking for a Nikon should spend the extra cash for the D80. "
ePhotozine reviews the Nikon D40X and writes;
"The body is light and compact, but this means that all the functions that would otherwise be on dials etc, are hidden away on menus. The lack of a top-mounted LCD is a drawback because the information that is displayed on the rear LCD never stays there for very long…While the shooting speed of the camera is a long way off the marketing claims, with just modest performance, it's the ease of use of the camera and the results that count the most in this marketplace. On that score, the D40x is easy to pick up and start shooting with because the more advanced functions are kept out of the way initially, and the results, while lacking a great deal of sharpness thanks to the kit lens, are generally pleasing."
ThomHogan compares the Nikon D40X to Nikon D40 and writes;
"Yes, the ratings are the same for both the D40 and D40x. While you get a bit more "performance" from the D40x due to the extra pixels and slightly faster frame rate, it's not enough to make me give an additional star, especially given the loss of flash sync speed. Likewise, the increase in price for the D40x, while slightly more than justified by the changes, doesn't warrant losing a full star for the D40x, either. The D40 value rating would be higher, though, if you could get the D40 without the kit lens. Put another way, body only at a lower price I'd give the D40 full marks. It's likely that at some point in the D40's lifespan that'll happen."
TrustedReviews reviews the Nikon D40X and writes;
"In the D40x Nikon may finally have got the entry-level DSLR that can give Canon a run for its money while holding off Sony's advance. It is, by an admittedly narrow margin, a better camera than the EOS 400D in many respects, including the crucial area of overall image quality. It is easy to use, has Nikon's traditional fantastic build quality, and performs superbly well. If you're looking for an SLR for under £500 the D40x should be near the top of your list."
PixInfo reviews the Nikon D40X and writes;
"No matter how hard I try, I cannot find any serious flaw when it comes to image quality. Minor problems, like the slightly over saturated reds, or the imperfect default settings could be corrected, but these don't make the camera any worst. I feel the normal image sharpening a bit too strong. The halo effect appears around the edges with contrast. I would leave this setting on soft, and would use sharpening at processing time (the sample images were taken with normal setting, so everyone can decide). Colors are ok in Normal mode, but Vivid, and especially More vivd are producing too strong colors and over sharpened images, just like in the Nikon D80."
Pocket-Lint reviews the Nikon D40X and writes;
"The image quality, handling, responsiveness and features strike the same great balance for its target market as on the D40 but, I for one don't feel the extra £150 for the higher resolving sensor makes total sense for you, the buying public. Yes, it means Nikon has a camera that can go head to head with Canon's EOS 400D, but this is more a marketing ploy than trying to bring a better product to market for the photographer. But to be fair, just like the D40, the D40x is a slightly more expensive but still excellent DSLR for the first time DSLR buyer on a more modest budget and for those that feel they really do need the extra resolution over the D40. It's compact and lightweight too, and ultimately an excellent choice."
CNET Asia has a preview of the Nikon D40x and writes;
"The grip on the D40X is more suited to smaller hands, so consumers in Asia ought to be happy campers. For a camera that's aimed at beginners, it's a pity there is no grid overlay to help with picture composition…In almost all respects, the D40X is a carbon copy of the D40. However, there are some key differences such as a new 10-megapixel sensor versus the older 6-megapixels and a lower ISO base sensitivity of ISO 100 (versus the previous ISO 200). "
PopPhoto has done some tests for the Nikon D40x and writes;
"Noise suppression was generally better than the D80's and much better than the Rebel's. As ISOs increased, the D40x's resolution exceeded that of the Rebel. Its noise levels of 0.9, 1.05, and 1.05 at ISOs of 100, 200, and 400, respectively, would qualify for a Ridiculously Low rating if we had one. (They all rank Extremely Low.) Noise reduction is applied steadily but unobtrusively at higher ISOs. At ISO 1600, noise was only Very Low, while resolution dipped by less than 5 percent, still Excellent. This is great performance — especially for $799..So if you want a tougher camera, or if you have a bagful of older Nikon AF lenses, spend $925 (street, body only) for a D80. If not, the D40x provides the best imaging performance for the buck you can get in a 10MP camera. Expect long lines at the camera store." [test result @ PopPhoto]
KenRockwell has posted its preview of the Nikon D40x;
"For now, I'd pass on the D40x and get a D40 instead. They are the same camera, and the D40x costs much more for no significant change in quality or performance. My two favorite Nikons are my D40 and my D200; I'd pass on the D40x and D80 to save my money to step up directly to the D200 to see any real improvement…I'd suggest the regular D40 to save money. Megapixels have nothing to do with how a picture looks. The D40x isn't worth $200 over the D40 to me, and I sometimes make prints 20 x 30″ (50 x 75 cm) and larger. The D40x is fantastic, but I don't think it's $200 better than the D40. "
Let'sGoDigital has posted its preview of the Nikon D40x;
"The Nikon D40x has been made according to a concept that has proved itself within a very short space of time. A digital SLR camera with the emphasis on user-friendliness which takes an extremely simple approach to digital photograph, something that used to be too technical for a lot of people. This simple approach plus the intelligent software has made high quality photography possible in a simple way. The Nikon D40x is handily compact, without losing its stability. It is perfect for taking along somewhere quickly and is ideal for day trips and holidays. I think that Nikon has come up with an extremely strong and convincing concept and I can imagine that we are looking at yet another success after the D80, D200 and D40."