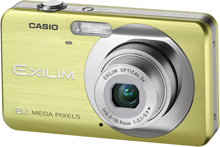 The Casio EXILIM Zoom EX-Z80 is an 8 megapixel digital camera with a 3x optical zoom and a 2.6 inch LCD screen (114,960 pixels).
The Casio EXILIM Zoom EX-Z80 has a variety of motion detection technologies enabling the automatic taking of images when subjects become still, subjects smile or when the photographer's own face fills the frame (self portrait).
Coming in a small casing and six colors (pale pink, vivid pink, green, blue, black, and silver) this camera is being aimed at the fashion conscious.
The Casio EXILIM Zoom EX-Z80 will have a retail price of $199.99 USD.
By this camera now at Amazon
Casio Exilim EX-Z80 Reviews
Casio Exilim Zoom EX-Z80 News Release Extract
Casio EXILIM Zoom EX-Z80 — a small 8.1 megapixel digital camera with a smart design
The EXILIM Zoom EX-Z80 is a digital camera that features a very compact, tightly formed design which offers the functionality needed to easily take photos and shoot movies, yet also offers a design feel conducive to carrying it around almost like a fashion accessory. It is available in six body colors — pale pink, vivid pink, green, blue, black, and silver. With this model, Casio has sought to create both functionality and design that are "easier" and "more fun."
A smallish, smart form
This camera's smart form, with height kept to a minimum, makes it compact enough to be cradled in the palm of the hand. The body features a finely brushed finish, and the contrast with the mirror finish on the ring surrounding the lens accentuates the camera's scintillating presence.
8.1 million effective pixels and a 3x optical zoom lens
Thanks to the use of the EXILIM Engine 2.0 high-performance image processing module, which makes full use of Casio's proprietary technologies, users can enjoy taking beautiful pictures with very low noise with this high performance 8.1 megapixel model.
Auto Shutter function automatically records the moment of a smile or the instant when hand shake ceases
Using motion blur detection technology, the camera can automatically take a photo at the instant when hand shake or subject movement ceases. Users can also automatically capture the moment of a smile, the instant when subject movement due to panning ceases, or the moment when their own face fills the frame as they point the camera towards themselves.
iTunes-compatible H.264 video
The camera uses the H.264 video standard, which utilizes the AAC audio codec widely enjoyed in Apple's iPod, etc. It is also possible to record movies in an appealing wide format. The camera also features a Movie Button which makes movie recording easy.
Fun and easy to use focusing frames
In addition to the usual rectangular focusing frame found on the LCD monitor, users can also choose other playful design, such as a heart shape, for the focusing frame. When the subject is crisply in focus a clear heart shape is displayed, but when the image is not in focus the heart shape breaks up. Not only fun, this is a useful tool that makes it easier than ever to get the focus right.
Face detection function* finds faces of family members and focuses on them
If the faces of the people who users want to be in sharpest focus are prerecorded, the camera can use face detection technology to simultaneously detect up to ten faces. When it recognizes any of the prerecorded faces, it prioritizes them when determining correct focus and exposure. This feature can be useful when ordinary face detection technology would have trouble focusing as desired, such as when a number of people are lined up for a portrait and the picture-taker's family members are at the rear of the group.