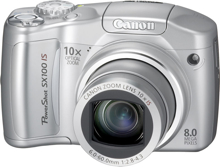 The Canon PowerShot SX100 IS is an 8 megapixel digital camera with a 10x optical zoom lens – equivalent of 36 – 360mm (with optical image stabilization).
The Canon PowerShot SX100 IS features a 2.5 inch LCD screen (no view finder), maximum aperture range of f/28 to f/4.3, ISO from 80 to 1600 and a shutter speed range of between 1/2500 to 15 seconds. The camera measures 4.28 x 2.81 x 1.84 in. / 108.7 x 71.4 x 46.7mm and weighs approx 9.35 oz. / 265g (camera body only)
It has a large range of automatic and scene modes as well as modes that give more control to a photographer wanting to stretch the camera a little further with aperture priority, shutter priority and manual modes but also manual white balance and metering control.
By it at Amazon
Canon PowerShot SX100 IS Reviews
TechTree reviews the Canon Powershot SX100 IS and writes;
"The SX100 IS offers good performance, and is one of the better options if you're looking for a consumer-level or "regular" camera that can offer good-quality pictures, some advanced features, as well as a high-zoom lens. In a way, it's got more than what an average user could ask for, but it's not just any other digicam – nor is it a full-featured prosumer; that's where the problem lies. "
DevHardware reviews the Canon Powershot SX100 IS and writes;
". The SX100 produces excellent quality photos with vivid colors and very minimal camera noise up to ISO800. Long-range shots are also among the best in its class with minimal blurring or loss in detail…. If you chose "excellent quality images," then the Canon PowerShot SX100 IS would be a great choice for you. If you are looking for a speedy super-zoom, you'll have to look elsewhere. "
DCRP reviews the Canon Powershot SX100 IS and writes;
"The ISO 80 and 100 shots are both very clean. That's still the case at ISO 200, though you can start to see the effects of noise reduction appearing in a few places. The noise reduction gets more obvious at ISO 400, though a small to midsize print is still very possible here. At ISO 800 we get a drop in color saturation and noticeable detail loss."
ComputerActive reviews the Canon Powershot SX100 IS and writes;
"If you value the ability to get closer to your subject than conditions may allow over and above a multitude of manual controls, then the simple to operate, solidly constructed SX100 IS offers a reliable option and great image quality into the bargain. "
ImagingResource reviews the Canon Powershot SX100 IS and writes;
"While the PowerShot SX100IS' performance is not quite up to Canon's claims in all areas, it is still a fairly responsive camera, and its Burst mode is likely to be plenty for most users shopping at this price point. The Canon PowerShot SX100IS is a really enjoyable camera to use, and if you're looking for a long-zoom, fairly compact digital camera that lets you roll your sleeves up and tweak each photo to your satisfaction, it is definitely worthy of a place on your shortlist, and worthy of a Dave's Pick."
Cameras.uk reviews the Canon Powershot SX100 IS and writes;
"A single photo took 0.33 seconds and five photos took 7.72 seconds. These are average times. With the flash on it was a different story and the camera really struggled. A single photo took 1.98 seconds and five photos took 22.53 seconds. .. The Canon Powershot SX100 IS is a winner, although I do have concerns about shutter lag when the flash unit is on. The all important picture quality is very good, as I would expect from a Canon digital camera. The camera also has a good set of features. "
DigitalCameraReview reviews the Canon Powershot SX100 IS and writes;
"The Canon Powershot SX100 IS offers a blend of automatic and manual shooting options that should appeal to a broad range of users. This relatively compact camera mounts a 10x optical zoom lens and offers good shutter performance, image color and quality along with optical stabilization…if you need a small camera with a big lens, give this camera some serious consideration."
PhotographyBlog reviews the Canon Powershot SX100 IS and writes;
"In fact overall the SX100 IS adds up to one of the more competent performers out there in this price bracket.. I was expecting a performance that was OK and was pleasantly surprised when the Canon PowerShot SX100 IS exceeded it. So that's another recommendation from the PhotographyBLOG crew for those wanting an all-singing, all-dancing big zoom compact, but without too many distracting specifications or a hefty price tag in tow."
TrustedReviews reviews the Canon Powershot SX100 IS and writes;
"For a relatively modest price the Canon PowerShot SX100 IS offers a good range of features to accommodate both novice and more experienced photographers. Its long zoom range gives it added versatility, and its fast performance, superb AF system and high image quality are capable of producing excellent results in a wide range of situations. Its only disadvantages are its bulk and weight, and its poor high-ISO noise reduction."
DigitalCameraInfo reviews the Canon Powershot SX100 IS and writes;
"In Movie mode, the camera resolves 309 lw/ph horizontally with 9.4 percent undersharpening, and 377 lw/ph vertically with 8.4 percent oversharpening. This is decently sharp for camera video, and the sharpening doesn't introduce drastic image artifacts."
PhotoReview.au reviews the Canon Powershot SX100 IS and writes;
"Noise was low at ISO 80 and 100 but rose progressively thereafter, becoming unacceptable by ISO 800. Interestingly, noise in long exposures (13-15 seconds) at ISO 400 was relatively low, although at ISO 800 it had become visible and by ISO 1600, both colour and pattern noise were severe – and very obvious. With shorter exposures (including flash shots), image noise was less obvious, although shots taken at ISO 1600 had a blotchy look and visible granularity."
GoodGearGuide reviews the Canon Powershot SX100 IS and writes;
"The PowerShot SX100 is a solid ultra-zoom advanced camera. While there are bigger lenses on the market, the 10x optical zoom here means the unit still fits comfortably in a pocket and the images, while a little noisy, are good at low ISO sensitivities."
ePhotozine reviews the Canon Powershot SX100 IS and writes;
"The performance of the noise is the most pleasant surprise and is great news for those of you who want a good looking camera with some creative control and one that will work in a bar when you go out at night. "
CNET reviews the Canon Powershot SX100 IS and writes;
"The good: First-rate photo quality; full set of manual exposure controls; optical image stabilization; electronic lens cover. The bad: Too easy to accidentally click instead of scroll when navigating; no optical zoom in movie capture. The bottom line: Though the Canon PowerShot SX100 produces excellent photos, other aspects of the camera–some performance issues and operational annoyances, to name two–dim its luster. "
PopPhoto reviews the Canon Powershot SX100 IS and writes;
"The Canon PowerShot SX100 IS is a cute camera with some powerful functionality hidden beneath an easy-to-use interface. Despite the composite body, it feels good and solid in the hand and it produces very nice images at ISOs 80 and 100. The 10x optically stabilized 36-360mm zoom give a great reach from normal to supertelephoto, and the IS system works to keep the camera steady in both still and video shooting modes.."
Canon PowerShot SX100 IS News Release
LAKE SUCCESS, N.Y., August 20, 2007 – Canon U.S.A., Inc. today introduced a brand new PowerShot line the SX series and the first camera in that line-up, the ultra-zoom PowerShot SX100 IS digital camera. The PowerShot SX100 IS digital camera features a 10x optical zoom, an Optical Image Stabilizer (OIS) and an extended grip, making this light and small shooter capable of capturing magnificent images clearly, even at long range.
In addition to its powerful zoom lens, the PowerShot SX100 IS digital camera is loaded with a full complement of performance and convenient features that camera aficionados have come to expect from Canon 8.0 megapixel resolution for crisp, vibrant images, a DIGIC III image processor for speed, power and performance, Canon's Genuine Face Detection Technology (with Face Selector capability), a large 2.5-inch LCD screen for easy image previews and reviews, and much more.
This technology, coupled with a 10x optical zoom and OIS, enables soccer moms who are perched in the bleachers to have the ability to shoot photos of their superstars playing on the field that will look like photos taken from the sidelines. Alternatively, a parent sitting in the balcony with their sights set on capturing their little ballerina's face as she pirouettes through the air for the first time can easily keep the focus framed on their daughter's moving image throughout the performance. And, since the PowerShot SX100 IS Digital Camera is part of Canon's "A-Team" (powered by AA batteries), it's quick and simple to power up.
Though simple to operate, the PowerShot SX100 IS digital camera offers photo enthusiasts many creative possibilities, including the ability to shoot VGA movies of the very highest quality. In fact, the PowerShot SX100 IS provides two VGA 30 fps recording modes: Standard mode for maximum image quality, and the new 640 LP mode for maximum recording time and reduced file sizes. In either mode, the PowerShot SX100 IS can capture individual movies up to one hour or 4GB per clip, whichever comes first. Budding filmmakers simply switch to movie mode to capture video more easily than ever before, and then clearly view it on the bright 2.5-inch wide-angle LCD display or through a connected TV set or video monitor. Movie clips can also be uploaded to compatible personal computers for sharing on the World Wide Web.
Additionally, the PowerShot SX100 IS digital camera comes equipped with 19 shooting modes, ranging from fully automatic to fully manual, and easily accessible through an SLR-style mode dial on top of the camera. Shooting modes include Full Auto, Program, Shutter-Priority, Aperture-Priority and Manual, as well as special scene modes including Portrait, Landscape, Night Scene, Sports, and Kids & Pets.
"We developed the PowerShot SX100 IS digital camera with all the zooming power and creative control a traditional photo-taker could ever want in a compact and value-priced package," said Yuichi Ishizuka, senior vice president and general manager, Consumer Imaging Group, Canon U.S.A. "At a price point of just under $300 with a simple and intuitive user interface, this camera is just as appropriate for beginners as it is for more seasoned enthusiasts with a need to capture quality images from a distance."
Setting it apart from competitors, the PowerShot SX100 IS digital camera gives consumers interested in the ease of a point-and-shoot camera many of the technological advancements that are the result of Canon's 70-year heritage as an imaging innovator.
New Canon PowerShot Digital Camera Lines Shared Technological Advancements
DIGIC III
The "brain" of this new PowerShot camera is DIGIC III, the gold standard on all new Canon digital cameras. The DIGIC III image processor accounts for the camera's higher performance levels, including faster start-up, faster autofocus and quicker shutter response times that leave long-lag competitors in the dust. The DIGIC III chip design improves image quality and offers more efficient power consumption, resulting in extended battery life under typical shooting conditions.
ADVANCED FACE DETECTION
With Canon's new Genuine Face Detection technology, the camera can detect, lock-on and track multiple human faces in a scene. The Face Detection algorithm automatically prioritizes and selects faces and not simply the closest object (based on Canon's Intelligent Scene Analysis/iSAPS technology). It will then optimize the focus, exposure and flash to ensure the best possible results. Using Canon's Face Detection, photographers can keep up to nine forward-looking faces in focus at any one time no matter where they are within the image. The PowerShot SX100 IS digital camera also introduces an exclusive new function called Face Select and Track using the convenient Face Selector button. With this feature, when multiple faces are detected, photographers can select any individual face they want the camera to track. This feature is ideal for many shooting situations such as birthday parties or graduation ceremonies, where many people are present, but the photographer is primarily interested in just one of them. Working in concert with Face Detection, the SX100 IS's "Red-Eye Correction" feature helps to detect and correct red-eye during playback mode. Images can be corrected automatically or manually while viewing photos on the LCD screen. All in all, Canon's new Face Detection Technology makes for even easier picture-taking moments, helping users ensure in-focus smiles and accurately exposed faces.
OPTICAL IMAGE STABILIZATION (OIS)
The extended zoom range of the camera makes optical image stabilization (OIS) essential. Canon's lens shift OIS provides an effective antidote to camera shake, particularly at longer zoom focal lengths or during long exposures when even the slightest hand-held shake is magnified to picture-blurring proportions. Superior to electronic image stabilization systems that simply use software to mask movement, OIS actually shifts the lens proportionately to compensate for unwanted motion, making it easier to snap great images. The OIS found in Canon PowerShot digital cameras is based on technology originally developed for Canon's renowned high-end professional EOS SLR cameras.
The steady effectiveness is further enhanced when paired with the new "Auto ISO Shift" feature which, at the touch of a button, can automatically increase the ISO speed setting as required to maintain fast shutter speeds when shooting in low light conditions without a flash.
PRINTING MADE EASY
All Canon PowerShot digital cameras work seamlessly with Canon's compact photo printers to deliver stunning high-quality borderless prints. Consumers simply connect their PowerShot digital camera to a Canon compact photo printer, press the Print/Share button, and moments later a brilliant, borderless 4″ x 6″ print begins to emerge; it's that simple. Canon's compact photo printers are PictBridge compatible, so they work with PictBridge enabled digital cameras to provide users with excellent image quality and ease-of-use, especially when paired with a Canon digital camera.
HIGH-CAPACITY MEMORY CARD CAPABILITY
As an added convenience, Canon PowerShot digital cameras also accommodate MultiMedia MMC memory cards, as well as standard SD memory cards and the new, high-capacity SDHC memory cards. This way, consumers do not have to carry around multiple memory cards in order to be able to continue to save those special moments during extended vacations or high-photo-taking adventures. Canon PowerShot camera owners can shoot uninterrupted.
The PowerShot SX100 IS digital camera will be available in ever-classic, never goes out of style black or silver colors. In stores beginning in October 2007, the PowerShot SX100 IS camera kit includes two AA Alkaline batteries, a 16MB MMC plus memory card, a USB interface cable, an AV cable, a neck strap, and Canon's software suite at an estimated selling price of $299.99*.