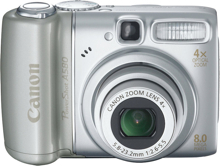 The Canon PowerShot A580 is an 8 megapixel point and shoot camera with a 4x optical zoom lens with Image Stabilization, a F2.6 maximum aperture, and a shutter speed range of 15-1/2,000 sec.
It features a large high-resolution 2.5-in. LCD screen (115K dots).
Canon PowerShot A580 News Release Extract
Sharing most of the features and visual virtues of its image stabilized sibling, the PowerShot A590 IS, including a fast 4X (35mm-140mm equivalent) optical zoom lens, the PowerShot A580 camera features an 8.0 megapixel CCD-type image sensor, the option of fully automatic or semi-automatic settings and 16 easily selectable shooting modes. Incorporating a virtually identical body design as its slightly more feature-rich A-series family member, the PowerShot A580 camera is easily distinguished thanks to the pearlescent silver patina of its equally durable shell and easy to hold grip.