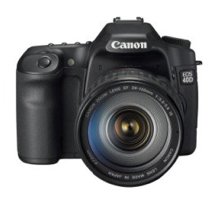 The Canon EOS 40D is a 10.1 megapixel DSLR (CMOS) with 6.5 frames per second shooting, a new Autofocus system (9 cross type sensors), 3.0 inch LCD (with Live View), DIGIC III, integrated cleaning, custom user modes on the top dial (3), a larger and brighter view finder than it's predecessor and a quieter mechanism.
Get a price at Amazon for the Canon EOS 40D 10.1MP Digital SLR Camera
Canon EOS 40D News Release
Canon today introduces its latest digital SLR for advanced amateurs and semi-professionals: the EOS 40D. With a 10.1 Megapixel CMOS sensor, 6.5 frames per second burst performance, a newly developed AF system and 3.0" LCD with Live View mode, the EOS 40D makes significant advances in both performance and versatility.
The camera benefits from the new EOS technology platform introduced earlier this year with the professional EOS 1D Mark III. Canon's DIGIC III processor delivers responsive operation, improved colour rendering and near-instant start-up time. The EOS Integrated Cleaning System combats sensor dust, while a strong magnesium alloy body with weather resistance ensures lasting durability.
"The EOS 40D represents an important step in the development of EOS for the advanced amateur market. It incorporates many of the technologies pioneered in our latest EOS-1 series cameras," said Mogens Jensen, Head of Canon Consumer Imaging, Europe. "For digital photographers, the benefits of upgrading to the EOS 40D are real and significant. For analogue SLR users, there's never been a more compelling reason to make the switch."
Key features
10.1 Megapixel APS-C CMOS sensor
6.5 fps continuous shooting, max. burst 75 JPEGs
New AF system with 9 cross-type sensors
DIGIC III processor
3.0" LCD with Live View mode
EOS Integrated Cleaning System
Clear and bright viewfinder
Customisable Picture Style processing parameters
Speed and image quality
Canon's third generation CMOS sensor improves on its predecessor with redesigned pixels that keep noise to a minimum. The EOS 40D maintains high image quality up to ISO 1600, expandable to H:3200 for situations where flash use is not permitted or desired. Highlight Tone Priority mode gives wedding and landscape photographers the option to boost dynamic range for highlights when shooting above ISO 200 – reproducing more tonal detail from wedding dresses, clouds and other light coloured objects. The DIGIC III processor powers a burst rate of 6.5 fps, working with the image buffer to handle up to 75 Large JPEGs (17 in RAW) without pause. Images are processed at 14-bits for a greatly expanded colour depth, providing smoother gradations and exceptionally accurate colour reproduction.
New cross-type AF system
A key advancement of the EOS 40D is its new 9-point cross-type AF system. All nine AF points can achieve focus on both horizontal and vertical planes. A central AF point is capable of accurate focusing up to aperture f/2.8, with eight outer points working up to f/5.6. In response to requests, the dedicated AF Start (AF-ON) button allows photographers to execute auto focus with their thumb.
LCD with Live View mode
The Live View mode simplifies shooting from awkward angles such as ground-level macro or mounted tripod shots. The 3.0" LCD displays a real-time image in Live View mode, including a selectable grid overlay and a live histogram that simulates image exposure. The AF-ON button can be configured to flip the camera mirror momentarily and engage auto focusing. For the studio environment, remote Live View lets the photographer compose, adjust settings and capture the shot from a PC using the supplied EOS utility software.
Total control
The EOS 40D is fully customisable to the photographer's shooting preferences. The mode dial contains space for three sets of user-defined settings, allowing the photographer to switch instantly between several shooting setups. A new My Menu tab provides quick access to frequently used settings, while 24 custom functions allow photographers to fine-tune camera operation and controls. The ability to change the focusing screen – with two additional screens available – adds further versatility. For easier operation of system accessories, settings for the Speedlite 580EX II and new Wireless File Transmitter WFT-E3 can be controlled directly from the LCD.
Wireless File Transmitter WFT-E3
Also launched today is the Wireless File Transmitter WFT-E3. Built to work with the EOS 40D, the WFT-E3 enables rapid wireless image transfer to remote FTP servers, along with two-way communication through PTP and HTTP. In HTTP mode, remote users can trigger the shutter button or download images from the camera via an internet browser window. PTP mode is used for wireless remote shooting with the EOS 40D and supplied EOS Utility software. For longer shoots, the WFT-E3 can connect directly to external hard disk drives (HDDs). And if connected to a portable GPS device, the location and time of capture is automatically added to each image as EXIF data. A convenient grip design features a main dial and shutter controls for vertical shooting, while weather resistant seals protect the unit.
Two new EF-S lenses are launched today in conjunction with the EOS 40D
* EF-S 18-55mm f/3.5-5.6 IS – a high quality, affordable standard zoom lens incorporating a 4-stop Image Stabilizer
* EF-S 55-250mm f/4-5.6 IS – a versatile telephoto zoom offering the longest focal range in the EF-S range to date as well as a 4-stop Image Stabilizer
Software
* The EOS 40D is supplied with a comprehensive software suite to streamline the photographer's workflow. This includes Digital Photo Professional (DPP), a powerful RAW converter that provides complete RAW image processing control.
* DPP integrates with cameras features such as Dust Delete Data and Picture Styles. Users can now also create their own custom Picture Styles with the supplied Picture Style Editor software. The camera also comes with EOS Utility, ImageBrowser/ZoomBrowser and PhotoStitch.
Canon EOS 40D Reviews
PhotoNet reviews the Canon EOS 40D and writes – 'The crop sensor combined with state-of-the-art systems makes the Canon 40D the best digital SLR body for budget-conscious wildlife photographers. Adding the 6.5 frames per second capture rate makes the 40D the best digital SLR body for sports photographers who don't want to buy the Canon EOS 1D Mark III, $4500 (review). Within the Canon system, the 40D makes sense for people who leave the house on a specifically photographic mission and don't mind carrying the extra weight and bulk in exchange for the ruggedness and two-wheel user interface.'
Bob Atkins has posted a review of the Canon EOS 40D and writes – 'In just about every respect the EOS 40D technically outperforms the EOS 30D and so I think it is a worthwhile upgrade for those who can afford to switch and who can use the new features. I didn't feel that way about the 30D, which was a good camera but for me didn't offer enough new features to persuade me to trade in my 20D and upgrade. Based on handling the camera for a day, I'm very pleased with it. The larger LCD and revised (easier to navigate) menu structure is nice. The 3" LCD is very nice. I really like the fact that the shutter is quiet in normal operation and even quieter still in Live View. The larger viewfinder and ISO display are also useful features. Though I'd initially thought of Live View as a bit of a "gimmick", I'm actually thinking or more and more potential uses for it! '
Luminous Landscape reviews the Canon 40D and writes – "My time with the 40D was short, but I found that shooting about a thousand frames over a long weekend was all I needed to be able to draw some preliminary conclusions. These are, in brief, that the image quality of the 40D is excellent, continuing the industry-leading results that Canon has offered for the past 5-6 years. I didn't see any breakthrough in low noise at the highest ISOs, but as with the EOS 5D ISO 400 is essentially noiseless and can be used as an everyday speed. Noise doesn't really become an issue until ISO 1600 and even then isn't that objectionable…. The bottom line is that the Canon 40D is the most DSLR for the money that Canon has ever offered. Certainly in its price range there doesn't seem to be anything that can touch it. Move up a notch in price though and the forthcoming Nikon D300 may well put the squeeze on Canon's hegemony in the DSLR marketplace. Time will tell, and no matter what happens we'll all benefit from the renewed competition."
CameraLabs reviews the Canon EOS 40D and writes – 'Canon's EOS 40D features many improvements over its predecessor and finally shows the pesky Nikon D80 who's boss – albeit one which costs almost half as much again. Canon's delivered a superb DSLR which handles beautifully, is packed with useful features and delivers great-looking images.'
Pocket Lint reviews the Canon EOS 40D – "Overall, the Canon EOS 40D is a more than able update of the 30D and since the introduction of the first Canon prosumer DSLR, the 3.1-megapixel EOS D30 back in 2000, it is light years ahead on that base line. In a nutshell, this is a cracking camera and one marred only by the odd metering performance, otherwise it is quite simply excellent and worth a close inspection for anyone either trading up or for those pros' that need a back up body that is not a compromise to far."
CNET reviews the Canon EOS 40D where they write – "For Canon devotees, the EOS 40D is a great camera and remains an excellent choice compared to most of the dSLRs in and around its price class–with one exception. Despite its many attractions, the Canon EOS 40D doesn't clearly outshine the Nikon D80, which costs a lot less. Though the 40D has the obvious advantage for action shooting–almost double the burst rate and a higher top shutter speed–the D80 generally feels a bit faster and more responsive for single-shot photography. I think the 40D ultimately does deliver better photo quality, but some people might find the differences more subtle than the price differential warrants. And, of course, the more expensive Nikon D300 remains a wild card until we've tested it. So for the moment, the 40D gets a hearty, if not wholly unqualified, endorsement."
PhotographyBLOG reviews the Canon EOS 40D and writes – 'The high points of the Canon EOS 40D are the tough, durable body, the control layout and that amazing 6.5fps shooting mode. Yes, it does soundly like a badly-muffled machine-gun, but it lets you grab action sequences that lesser cameras would miss. The speed of the AF system keeps moving subjects sharp, too. But perhaps the most striking thing about the Canon EOS 40D is its value. It's true that it costs more than other 10-megapixel cameras, but it's also much more professionally-orientated. Its nearest rival in the semi-pro market would be the newly-announced Nikon D300, but the list price is £1300 for the body only, and for that money you could get an EOS 40D and Canon's 17-85mm image-stabilised lens and have change to spare. The Canon EOS 40D's strength doesn't lie in any great technological breakthrough but in its professional appeal and its sheer value for money.'
The Digital Picture reviews the Canon EOS 40D Digital SLR and writes – "The 40D is a camera that will appeal to a vast range of photographers from advanced amateurs to working photojournalists and wedding photographers. All will appreciate its exceptional image quality, ease of operation, speed, modest weight and size, compatibility with the vast Canon system and very reasonable price." [Canon 40D White Paper] I agree. The 30D already sees a lot of professional use – The 40D offers enough improvements over the 30D to make an upgrade justifiable. Watch for them at the next wedding or other event you attend. And no less important will be the huge number of family memories preserved with the 40D. With its all-around good performance combined with the densest Canon DSLR sensor available, the 40D will have a large number of wildlife (especially bird) photographers as its owners. I'll personally be making the 40D part of my kit (replacing my 30D)."
Steves Digicams reviews the Canon EOS 40D and writes – 'there's a lot to like about the 40D. If you're looking for a 10-megapixel camera that can fire long bursts, is compatible with a mature system of professional accessories, and creates superb images in almost any light, look no further. This lightweight (26.1oz) camera, with it's comfortable molded grip, is small and tough enough to travel easily with active users. Certainly, the 40D is the best performance-cost value that Canon has ever offered, with a street price of just US$1299 or less (Body only). While the 40D is perfect for advanced amateurs, it will appeal to entry-level professional photographers too. The large LCD and improved menu structure make this camera a breeze to use. Canon fans will find the EOS 40D to be a wonderful camera and an excellent choice compared to most of the dSLRs in its price class.'
DP Review has reviewed the Canon EOS 40D where they give it a rating of 'highly recommended' and write – 'When I first started using the EOS 40D a simple description came to mind: that this is a 'well sorted camera'. It feels well rounded – the result of years of evolutionary improvement, it delivers in almost every area, and it inspires confidence. From a usability point of view the viewfinder feels larger, ergonomics are good, the user interface is clear and easy to learn, there are no in-use performance issues, metering and auto-focus show good consistency and the results speak for themselves; colorful (yet accurate) detailed images with low noise even at high sensitivities.'
DPexpert reviews the CANON EOS 40D DSLR and writes – "This is a fine camera with worthwhile advances on its predecessor. Canon has dominated this segment of the market for DSLRs between $2000 and $3000, but now faces stiff competition. The Sony A700, the Nikon D300 and the Olympus E-3 are coming soon, which means four superb cameras to choose from in the price range. Camera shops have already discounted the 40D to around $2600, so expect some serious price cutting."
Popular Photography tests the Canon EOS 40D where they write – 'The 40D's new live preview mode is a hot feature, giving you through-the-lens viewing on the 3-inch LCD, with a full data display under the image. Unlike the 1D Mark III, the 40D's AF works in live preview. It's similar to the live preview AF on several Olympus and Panasonic DSLRs, and causes a short screen blackout while the mirror flips down and the camera focuses. Not the ideal AF method, but useful in some situations.'
DCRP also reviews the Canon EOS 40D writing – 'The EOS-40D is capable of producing excellent quality photos, especially with a high quality lens attached (read: not my 17-85 IS lens). The camera produces very smooth-looking (yet still sharp) photos, with pleasing color, and minimal purple fringing (this last one is really more of a lens issue, though). Noise isn't really noticeable until you get near ISO 1600, and even then, it's more than manageable. Even the ISO 3200 is usable, especially if you do some cleanup work in software. The camera does tend to underexpose a bit, most notably when the sun's not out, so keep that in mind. Much to my surprise, the 40D has a slight redeye problem, probably due to its weak redeye reduction lamp.'