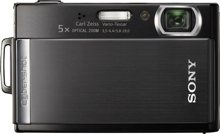 The Sony Cyber-shot T300 is a 10.1 megapixel ultra compact point and shoot camera with a 5x optical zoom lens (Carl Zeiss branded).
Replacing the DSC-T200, it features a wide 3.5 inch LCD touch screen, 15 megabytes of internal memory, super steadyshot image stabilization, ISO of up to 3200 and face detection technology (that can even differentiate between a child and adult's face).
The Sony Cybershot T300 hits stores from March 2008, priced at $400.
Buy the Cybershot T 300 at Amazon: Sony Cybershot DSCT300/B 10.1MP Digital Camera with 5x Optical Zoom with Super Steady Shot
Sony Cyber-shot DSC-T300 Reviews
DP Review reviews the Sony Cyber-shot DSC-T300 and write: "the T300 has a lot of features that will benefit its target audience. Image stabilization and dynamic range optimization will help produce better photographs for the user that is thinking more about capturing the moment rather than assessing the implications of the scene's lighting. There are also some useful post-processing effects (In-camera unsharp masking), as well as the flagrantly gimmicky ones (Apply 'Happy faces'). Our initial impressions of the T300 were not positive – with the function guide adding delays (but no useful information), and a 'plink' sound effect that screamed 'lifestyle accessory,' rather than 'camera,' every time it was touched (which does nothing to solidify the 'cameraness differentiation'). However, with these two turned off, the camera is transformed into a not-unpleasant, carry-everywhere snap shooter". Overall the Cybershot DSC-T300 receives an "above average" rating.