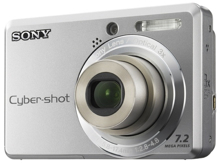 The Sony Cyber-shot S730 is a 7.2 megapixel point and shoot camera (announced December 27, 2007) by Sony.
The Sony Cyber-shot S730 has a 2.4 inch LCD (wide viewing – 112,000 pixel resolution), ISO of up to 1250, 3x optical zoom lens and 22 megabytes of internal memory.
A new multi-point autofocus mode ensures pin-sharp images, even when your subject is moving or isn't in the centre of the frame.