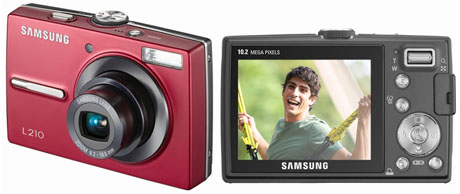 The Samsung L210 features a 2.5 inch LCD, 10.2 megapixel image sensor, 3x optical zoom lens (37mm – 111mm equivalent).
The L210 features optical image stabilization, face detection, self portrait mode, auto red eye fix and a range of other modes. The aperture range of the L210 is f/2.8 to f/14.1, ISO range is 80 to 1600 and shutter speed is 8 seconds to 1/1500. The main difference from the L110 is the step up to 10.2 megapixels and more advanced movie modes.
Samsung L210 Features
10.2 Megapixels
3x Optical Zoom Lens
Dual Image Stabilization (OIS + DIS)
Face Detection
Red Eye Fix
ACB (Auto Contrast Balance)
2.5 inch Intelligent LCD
Advanced Movie Mode (MPEG-4, SVGA Quality, Optical Zoom, Pause and Edit)
Self Portrait Mode
Samsung L210 Press Release Summary
Samsung Cameras raises the bar with the next generation L-series cameras
6 January 2008 – Samsung Cameras, leaders in digital imaging and innovation, is pleased to announce the release of the 8.1 mega pixel L100, the 10.1 mega pixel L110 and the 10.1 mega pixel L210. These three, easy-to-use, digital compact cameras are the next generation cameras from Samsung's popular L-series. All three combine Samsung's Digital Image Stabilization and Intelligent Face Recognition Technology in a compact aluminium body.
Samsung's Intelligent Face Recognition Technology detects the subject's face and automatically adjusts auto focus and auto exposure to ensure better composition and image quality for portraits. The AF function instantaneously recognises the faces of subjects and accurately focuses on them before the AE function takes over, setting appropriate exposure to ensure the highest image quality.
All three models also feature 3x optical zoom, a bright 2.5" LCD display and a suite of advanced video and editing features including:
*MPEG-4 Movie Recording mode lets users edit and zoom during filming
*Shutter speeds of up to 1/1500sec for fast moving subjects
*An ISO equivalent of 1600 for better pictures in low light
*Auto Red Eye Fix
*Various scene modes, continuous shooting and exposure bracketing to help get the best shots
*10 megabytes of internal flash memory