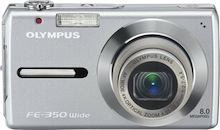 The Olympus FE-350 (announced 22 January 2008) is an 8 megapixel point and shoot digital camera with a 4x wide angle optical zoom (28mm – 112mm) and a 3 inch LCD screen.
The FE-350 features face detection technology, digital image stabilization and much more.
Expect the Olympus FE-350 to have a retail price of $249.99 USD when it hits stores later in January.
Buy now at Amazon:
Olympus FE-350 Reviews
Olympus FE-350 News Release
EASY TO USE, EASY TO CARRY, EASY ON THE EYES: OLYMPUS COMPACT FE-SERIES MODELS ARE THE PERFECT SHOOT-ON-THE-FLY CAMERAS
All Four Models Redefine the Entry-Level Digital Camera with 8 Megapixels, Face Detection, Digital Image Stabilization and Perfect Shot Preview
Choosing the right compact digital camera has never been easier thanks to the new Olympus pocket-size FE-Series cameras that make capturing brilliant images as simple as point and shoot. The FE-310, FE-320, FE-340 and FE-350 deliver high-tech features without being bland – these stylish, sleek and downright fun-to-use models make everyone who has them the life of the party.
Each tantalizing model offers 8.0 megapixels of resolution, Face Detection, Digital Image Stabilization, Perfect Shot Preview and three In-Camera Help Guides so you can learn on the go and capture all of life's special moments in brilliant detail at the touch of a button. Each camera also offers its own stand-out features and promises a little something for everyone:
FE-310: 5x Optical Zoom at a low price provides unsurpassed value and makes this the ideal camera for the budding photographer who wants to capture the action from an inconspicuous distance;
* FE-320: "Thin is in" with this super-slim (.65-inch) camera that slips inside a pocket or bag with barely a bulge. Its Perfect Fix feature works magic by sharpening unanticipated, blurry images, as well as improving lighting and eliminating red-eye at the touch of a button;
* FE-340: Five metal, super-slim, hot bodies (silver, red, blue, black and pink) match any outfit for the fashion conscious. Great things come in small packages and this camera is no exception with 5x Optical Zoom, Face Detection, Smile Shot to capture a spontaneous smile, and Expression Edit to turn a frown upside down; and
* FE-350: Its 4x Wide-Angle Optical Zoom fits more friends in the frame. Featuring an impressive 3-inch, high-resolution LCD for composing and displaying captured images, the FE-350 is a crowd pleaser.
"Great specs, sleek designs, amazing image quality and competitive pricing make the FE-Series models an outstanding value in pocket-size point-and-shoots, and they are redefining the entry-level category," said Jennifer Schmell, product manager, Olympus Imaging America Inc. "Easy-to-use as well as easy-to-carry, the FE-Series models are the ultimate shoot-on-the-fly cameras."
Powerful Optics
Great images start with great optics. The new FE-340 and FE-310 have a 5x Optical Zoom made from precision-crafted lenses that put you 60 percent closer to the action than 3x. Additionally, the FE-350 has a 4x Wide-Angle Lens (28-112mm equivalent; f2.7-5.4), which brings subjects closer when the zoom is used, and the wide-angle capability fits more of the subject in each frame – capturing incredible scenic shots and large group portraits, even indoors!
Face Detection
Face Detection, featured in the four new FE cameras, tracks faces within the frame and automatically focuses (Face Detection AF) and optimizes exposure (Face Detection AE) for sharp, brilliant portrait pictures. Even if your subject is moving, the camera continuously tracks your subject's face without having to press the shutter button.
Digital Image Stabilization Mode and Edit
Digital Image Stabilization (DIS) is featured in the four new FE cameras for capturing crisp, clear pictures. DIS freezes the action with high ISO sensitivity and fast shutter speeds to prevent blurry images often caused by a moving subject. The FE-320 and FE-340 also feature Digital Image Stabilization Edit, which uses a built-in gyro sensor to track camera movement and enables users to fix blurry images right in the camera.
Pre-Set Shooting Modes Featuring Smile Shot
The FE-320 and the FE-340 feature Smile Shot, which tracks your subject's face to detect a smile and automatically fires off three consecutive shots so you never miss that perfect smile. This feature is great for parents hoping to capture babies' hard-to-predict smiles, for example. The four new FE-Series cameras offer numerous pre-set shooting modes, such as Sports, Fireworks and Night Scene with Portrait. The cameras also offer VGA-quality video and sound, which enable users to shoot and share movies on the big screen or on the Web. The FE-310 and FE-350 offer 17 shooting modes, and the FE-320 and FE-340 offer 19 shooting modes.
Expression Edit
Now you can really turn a frown upside down! This fun feature uses Face Detection technology to edit a subject's facial expression after the image is captured. Four different expressions can be previewed in a multi-frame window on the LCD, and users can select their favorite expression at the touch of a button.
Perfect Shot Preview
The new FE cameras offer Perfect Shot Preview mode, which enables users to preview and select various photographic effects on a live, multi-frame window on the LCD before snapping the shot. This feature allows users to see precisely what the image will look like when adjustments are made, ensuring users are capturing the exact image they want. It is a great way for novice users to learn about the effects of different photography techniques, such as exposure compensation, white balance and metering.
Perfect Fix In-Camera Editing
Life does not always go according to plan. Olympus helps by providing technology, which enables users to edit images in-camera after the photos have been captured. The FE-320, FE-340 and FE-350 offer Red-Eye Fix and Lighting Fix. The FE-320 and FE-340 also offer Digital Image Stabilization Edit, which sharpens unanticipated blur.
Expanded Control and Easy Operation
In some situations, consumers may want more creative control when composing images. The four new FE cameras offer Program Auto Mode. Located on the cameras' mode dial, this option enables consumers to easily adjust ISO and white balance. Additionally, the new FE-Series cameras feature three In-Camera Help Guides, making digital photography simple and fun for users of all ages and skill levels. A tutorial "shooting guide" educates users on tips for achieving specific effects, such as "shooting into backlight" and "brightening subjects." The shooting guide not only provides detailed descriptions for various situations and environments, it also automatically sets the camera with the touch of a button, making the transition from learning to taking great pictures instantaneous.
TruePic™ III Image Processor
The FE-320 and FE-340 feature Olympus' exclusive TruePic III image processor, which was developed for the demanding performance of professional Digital SLR (single lens reflex) cameras. Olympus' enhanced TruePic III Image Processor produces crystal-clear photos using all the pixel information for each image to deliver superior picture quality with more accurate colors, true-to-life flesh tones and faster processing speeds. TruePic III also captures crisp, clear images at high ISO settings, which are traditionally associated with increasing image noise or producing grainy photos.
OLYMPUS Master™ 2 Software
OLYMPUS Master 2 Software provides the ultimate in digital imaging management. An intuitive user interface makes downloading to your computer quick and simple, and images are easily organized by folders or albums and searchable by date in Calendar view. And with one-click editing tools, such as red-eye removal, images can be touched up before printing or emailing. Online support, templates, firmware upgrades and other user services are just a mouse-click away. Use the optional muvee™ Theater Pack to create professional quality slide shows and DVDs from your pictures using any of several built-in templates.
Olympus Premium Cases and Silicone Skin
Olympus also offers premium cases in various colors, including black, pink and red leather, and a sporty neoprene case perfect for active or outdoor situations. Silicone skins that protect the camera from scratches are also available for the FE-340.
Availability
The FE-310, FE-320, FE-340 and FE-350 will be available in January 2008. The FE-310 includes two AA batteries, USB Cable, Audio/Video Cable, Wrist Strap, Manual, CD-ROM with OLYMPUS Master™ 2 Software and Warranty Card. The FE-320, FE-340 and FE-350 include a LI-42B Li-Ion Rechargeable Battery and Charger, USB Cable, Audio/Video Cable, Wrist Strap, Manual, CD-ROM with OLYMPUS Master™ 2 Software and Warranty Card.
U.S. Pricing
FE-310 Estimated Street Price: $149.99 (U.S.)
FE-320 Estimated Street Price: $179.99 (U.S.)
FE-340 Estimated Street Price: $199.99 (U.S.)
FE-350 Estimated Street Price: $249.99 (U.S.)